Former President Donald Trump stepped into the T-Mobile Arena in Las Vegas for UFC 290 to a resounding reception from a crowd brimming with anticipation. Trump's entry was bolstered by the company of UFC President Dana White, as the arena reverberated with cheers and welcoming gestures for the ex-president's sophomore appearance at a UFC event. His first appearance came alongside boxing legend Mike Tyson, as well as Dana White.
The crescendo of excitement in the packed arena was palpable when South African fighting sensation Dricus Du Plessis, coming off a win over Robert Whittaker, gave a personal shoutout to the former president. Du Plessis' acknowledgement of Trump's presence showcased the cross-pollination of sports and politics at the premier event.
This makes the left lose their mind.
The face of du Plessis when he spots Trump and couldn't get over the fence fast enough… very cool! pic.twitter.com/r4T5YHwzSR

— Filippo Maria O di B 🇮🇹 🇺🇸 🇨🇭🇷🇺 (@Filippo60) July 10, 2023
Trump was seen engaging in convivial exchanges with a host of celebrities, including renowned podcast host Joe Rogan, filmmaker Mel Gibson, and celebrated chef Guy Fieri. These interactions further underscored his enduring influence within the realm of entertainment and beyond.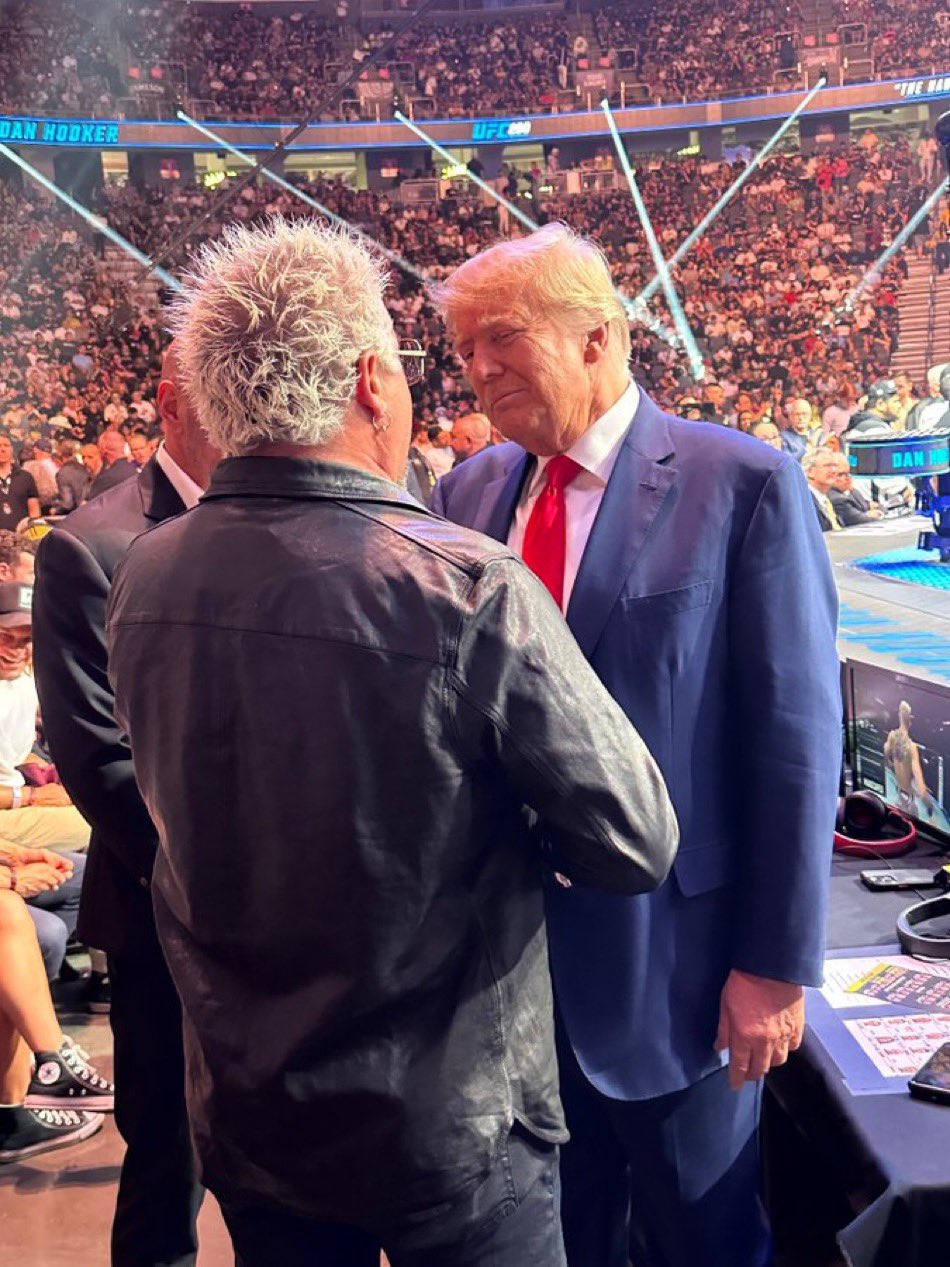 The former president's attendance at the marquee event during International Fight Week was hardly a surprise, considering his well-known admiration for the UFC and history of previous appearances at such events. He has recently become more vocal, taking to the podium in Las Vegas to offer a pointed critique of the current administration.
Despite electoral setbacks in Nevada during both the 2016 and 2020 elections, Trump voiced a resolute belief in the state's Republican prospects. He maintained that Nevada remains a stronghold for the Republican party, signaling his continued political influence.
The ex-president's presence at UFC 290, when viewed in conjunction with his active engagement with supporters, could indicate his sustained involvement in politics. It may also hint at his potential aspirations for the 2024 elections. His appearance at the UFC event, and the enthusiastic reception he received, exemplifies the former president's continued relevance in the political landscape.