District Attorney Fani Willis's Surprising Stance on Election Fraud Theories and the Trump Case
Recently revealed, an account believed to be District Attorney Fani Willis has posted several comments on Facebook regarding the 2020 U.S. Presidential election results in November of 2020. In these posts, she engaged in discussions related to the contentious election fraud theories that were also mentioned by former President Donald Trump.
Interestingly, she is now leading the legal proceedings against him and his team over these very theories in Fulton County, Georgia.
Specifically, on November 4, 2020, Ms. Willis touched upon the notable incident involving an alleged "water leak," stating:
"Georgia could determine who is our next president. A TEAM of lawyers needs to watch them count every single VOTE. They can start in Fulton where we are having water leaks. What ballots are they throwing out? Georgia lets give an honest accounting. No stunts!"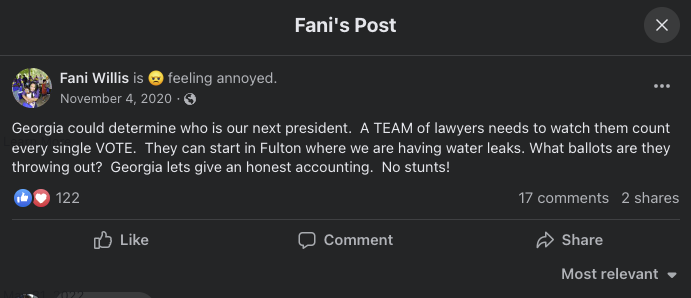 A day before that, she openly shared her concerns with her audience, indicating she was "worried" about potential mishaps in the voting process. This suggests that not only Donald Trump but also individuals like Fani Willis voiced concerns that those who count the votes may have "messed up" the election.
Yet, only Trump and his team are being legally challenged for expressing doubts about the 2020 U.S. Presidential election results.
By November 7th, Ms. Willis posted her admiration for Kamala Harris's election as the Vice President, indicating her political leanings.
Considering these statements, concerns emerge about District Attorney Willis's neutrality and her ability to uphold the law without bias.