Trump's Mugshot and Surrender on Election Fraud Charges
Former President Donald Trump is expected to surrender at a Georgia jail today on election fraud charges, marking a historic event as he will likely have a mugshot taken. This significant occurrence has caused authorities to issue a temporary flight restriction around the Fulton County Jail for a 'VIP moment'.
Trump, prior to this event, is shaking up his legal defense team by replacing attorney Drew Findling with Steven Sadow. This move comes just hours before his anticipated surrender.
Fulton County Sheriff says 'we'll have mugshots ready for you' when President Trump gets arraigned

This is the photo that will win him the presidency

The American people know a political persecution when they see one

— DC_Draino (@DC_Draino) August 15, 2023
Trump Allies' Arrests and Mugshots
Throughout the week, nine of Trump's allies have surrendered themselves at the Georgia prison. Their mugshots, released by the Fulton County Sheriff's Office, are now available to the public.
Some of the notable figures who turned themselves in include Sidney Powell, Jenna Ellis, and Rudy Giuliani, whose mugshot revealed a slight frown with a sheriff's badge on his right.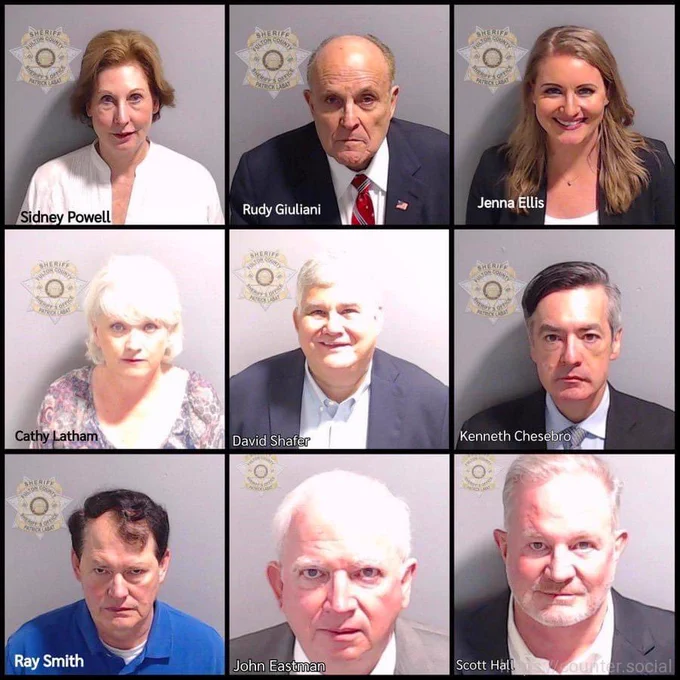 Conditions of Trump's Bail and Charges Against Him
Earlier this week, Trump's bail was set at $200,000, with a stern warning against sending threatening messages on social media platforms. The 41-count charge against Trump and 18 co-defendants is the fourth indictment he faces.
The charges include RICO (Racketeer Influenced and Corrupt Organizations), solicitation of violation of oath by a public officer, first-degree forgery conspiracy, perjury, and several others. If he's found guilty on all these charges, Trump could face up to 71 years in prison.
Importantly, state charges cannot be pardoned by a president.